Black and White Photo Edit Techniques
Hello everyone! Ona here to share some Black and White photo editing techniques for you! Did you read Rachel's latest article Add A Touch of Artsy on the blog? Rachel shared some creative ways to make your photo look more artsy. The photo Rachel used really worked for her page, the red tones were strong enough to stand out and draw the eye to it. In some cases a colour photo can become lost on a page due to the various tones in the photo, the solution here is to use a black and white version of the photo.
There are plenty of ways to turn a colour photo into a black and white one, you can use actions, a preset in Lightroom or other various methods. Today I just want to share four different ways using your PSE or PS software (or other other software if you have similar features).
This is the colour photo that I am starting with, showing my three youngest grandchildren. Their mother dressed them up and took them on a fun photo shoot out in the paddock next to their house. While I love the predominant colours of pink and green, I wanted the focus to be on their individual cheeky faces for my layout.
So let's start but do remember that the final results shown can always be tweaked further if you wish and also, everyone does see shadows and tones with a different eye, so what looks great for one person may not necessarily be the same for the next person......... YOU are the one who decides how YOUR photo should look like :)
Method 1 - Using the Convert to B&W in your software program.
The Convert to B&W function in PSE11 sits under the Enhance menu, it could be called something different for your program and be located in a different spot. This function allows you to select from a list of B&W styles that the programs runs on the photo automatically. You can move the sliders around to tweak the different colour channels to something you like. This is what my photo looked liked, not bad, a little bit dark but of course I could fix that with a Levels adjustment later if I wanted to.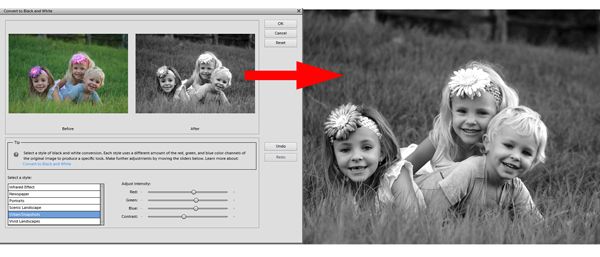 Method 2 - Using Adjustment Layers
On the layers palette you have an Adjustment Layer button which, when clicked, opens up a menu from which you can pick a particular adjustment to use on your photo. For this example I used the Levels adjustment after I desaturated the photo using CTRL+SHIFT+U. There are two ways in which the Levels can be set.
Using the eye droppers (circled below). First click on the black eye dropper then click on an area in the photo that is black, next, click on the white eyedropper and click on an area in the photo that is white - this sets the the Shadow and Highlights for your photo. The grey eyedropper is used in the same way and will adjust the midtones by clicking on a dark grey area.
The second way is to use the sliders (shown in the red rectangle below) which can be moved right or left to choose the settings that you are happy with.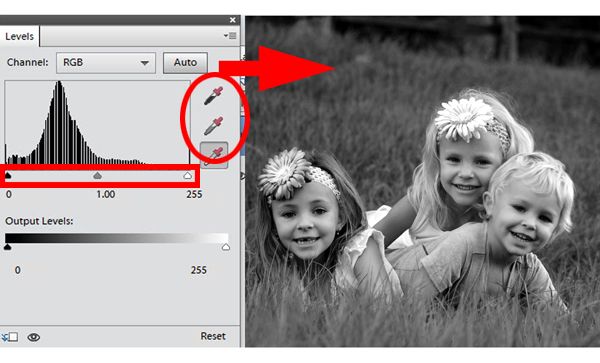 Method 3 - Using Blend Modes
This is a popular method as it is both fast and easy but remember that because the blend mode works on the entire layer, you may need to use a layer mask to mask out the parts that are either too light or too dark, to give your a photo a more balanced look.
Desaturate the photo first, CTRL+SHIFT+U, then duplicate it twice. On the first duplicated layer change the blend mode to Screen and on the second layer duplicated, change the blend mode to Soft Light (in both case the opacity stayed at 100%). This is what my photo looked like after I carried out these steps. Not too bad but the area that I circled below in red is a bit too light and looks quite 'blown out'.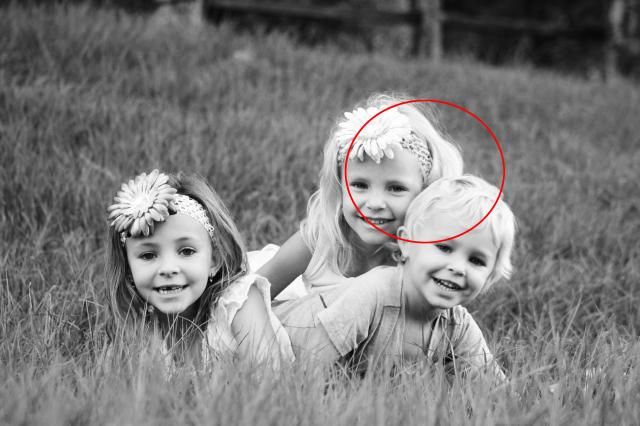 To fix this I used the the non destructive method of Dodge & Burn by creating a new layer and then going to Edit>Fill Layer and selecting 50% Grey. Then I changed the blend mode for this layer to Soft Light. Using a soft brush at low opacity (20%) use black or white to either darken or lighten parts of the photo. In this case I used black just to darken the areas I had circled in my last screen shot.
WARNING: DO NOT flatten your layers as the the layer modes will not be kept. To create a final composite layer go to the top of your layers and use CTRL+SHIFT+ALT+E to create a stamped merged layer. Then CTRL+ Click this layer in the layer palette and use CTRL+ X to cut/move. Go to File>New>Image from Clipboard which will open the photo which you can then save as a jpeg.
Method 4 - Camera Raw
While this function is mainly used to work with RAW files, JPEG formats can also be used.
To access this function you need to go to File menu and use the OPEN AS file. After locating the file you want to use, make sure to change the File Type in the lower box to CAMERA RAW, as shown in the screen shot below.

Play around with the settings after desaturating the photo and when you are finished you can either select the Done button at the bottom right of the dialogue box or Open Image. The first option allows you to save the edited file (which will replace your original unless you rename it) while the second options opens that particular image in your main editor screen of your program. I normally go with the second option so can put it straight into my layout without having to save it.
Here is a comparison chart of the four methods I used: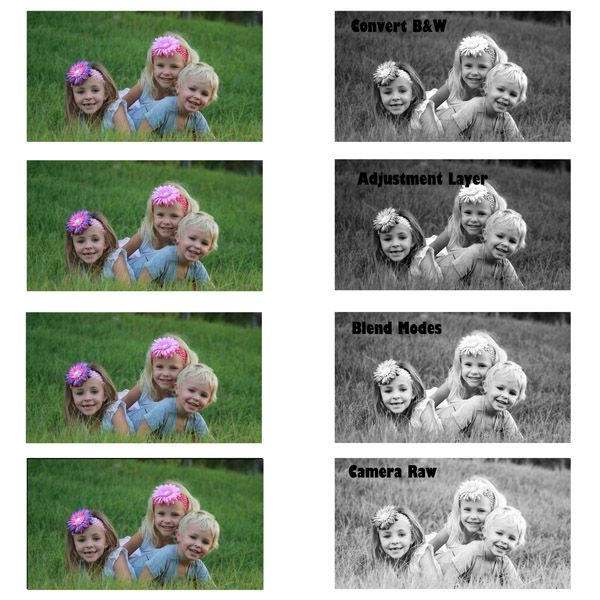 As you can see, you can get quite a few variations of black and white, it just depends on what you like! Of course you don't have to stop there either, you can always combine a couple of them and just mask out the bits you don't like. That is what I did for my layout below.
I ended up using the Camera Raw and the Adjustment photos created above. I applied a layer mask to the Camera Raw layer and using some of Rachel's brushes I removed some of the background.
Credit: Collect Moments kit | Collect Moments : Mixed Media 2 | You Are Strong [Art Journaling Kit] | Mish Mash: Colour Lovin' Stash 03 | Bubblegum Pop: Kit | Artful Intentions: Papillon Place [Value Bundle]
After using some of Rachel's brushes to create a mask underneath the photo I then clipped the photos to it and then went ahead and played with some other brushes on top and underneath the photo to give it a more artsy look.
These are some pages done by the Sistas! Check them out!!!
Anja: Using PS - "I always use the Black&White Adjustment Layer to convert my pictures to Black&White. I use the Green Filter a lot. For this tutorial, I tweaked the standard green filter settings as well...... this is how I do it quite frequently when I want to blend pictures with papers."
Credits: Quotiety [Kit] | Made To Match: Quotiety [Artsy Stamps] | Simply: Embellish | Collect Moments: Embellish | Create, Captivate & INSPIRE: Embellish | A Gesso Of A Mess 03 [Paint Stamps] | A Gesso Of A Mess 04 [Paint Stamps] | A Gesso Of A Mess 05 [Paint Stamps] | Mish Mash - Stamp Stash 01 | Mish Mash - Stamp Stash 05
Ellen: "I followed your Method 3 above."
Credits: Captivating 2012: December | Mish Mash Edgy Stash 2
Roxana: "For my layout, I used a free action by Pioneer Woman, B&W Beauty from PW action set updated, then played with the blending modes of the original photo and B/W, and different brushes to get the effect."
Credits: Artful Intentions: She wears wings [Value Bundle] | You are Unstoppable [Kit] | Mish Mash: Stamp Stash 10 [Stamps & Brushes]
So as you can see there are many ways in getting a good black and white photo so I hope you will give some of these techniques a try!
till next time
Ona xxx