Hi everyone, Ona here once again to bring you another tutorial. After reading Rachel's article, Collage & Ephemera, and looking at those inspirational layouts she posted, I was inspired to create a digital collage using various ephemera pieces. In the dictionary, a collage is described as "a piece of art that is made by sticking various materials such photographs, pieces of paper or fabric on to a backing." I liked the idea of using a 'backing' as mentioned, and thought about using a photo as my base, to 'stick' my collage on. To create a simple background, I settled on using the Threshold filter which is an Adjustment filter that converts a photo to pure black and white, removing all tonal detail. For this tutorial I will be using all the gorgeous ephemera that can be found in kits from Captivated Visions.
1 Select appropriate photo: Let's start by choosing a suitable photo. Once we apply the threshold filter to it, your photo will simply be seen as shapes in either black or white so try to pick a photo that has a large focus point of some sort. Landscape scenes are a good or photos of objects. Portrait photos are left to using the Posterize filter on it as it would give you more tonal shades to work with. I chose a photo of a lighthouse for my project.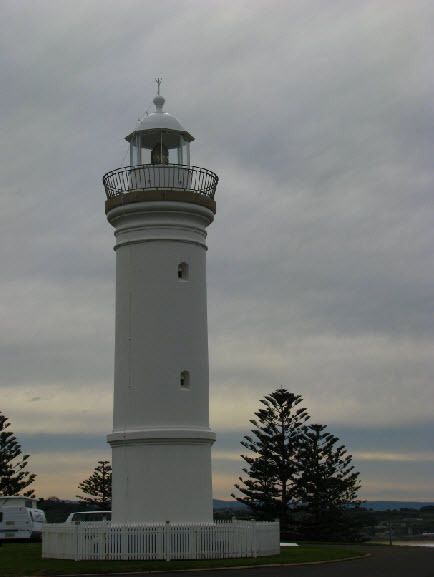 2 Using Threshold Filter:
After opening my photo in Elements. I duplicated the photo layer and then hid it, just as a backup if I need to go back to it. Then I clicked on the Filter menu and selected the Threshold option from the Adjustment section ( in PSE). Move the slider to suit your photo. What we are after is a solid black shape of the main feature in the photo, a solid shape that will act as our mask, allowing us to clip various ephemera onto it to create our collage.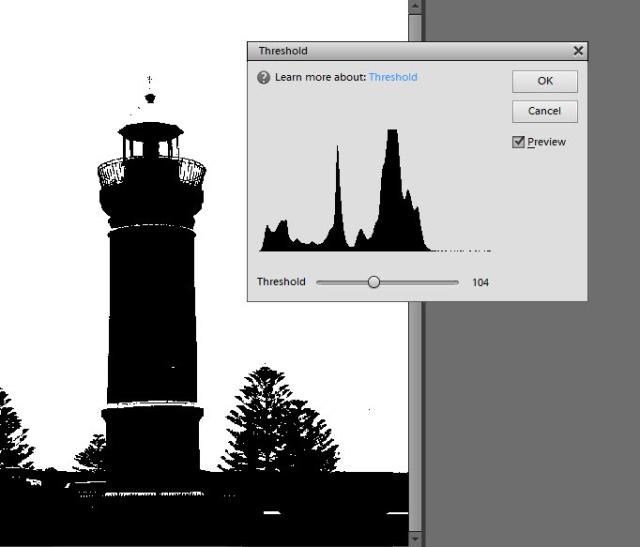 In some instances, the lighter parts of the photo will be blown out completely with the Threshold filter but don't worry, we can take care of this at a later stage...... just be sure to keep your original photo. For now click OK to set the threshold for the photo.
3 Delete the white background
Next step is to get rid of the white background, to do this I used the Magic Wand to click on the white and then pressed the Delete key. I didn't bother refining or feathering the selection edge as it didn't need to be for this project.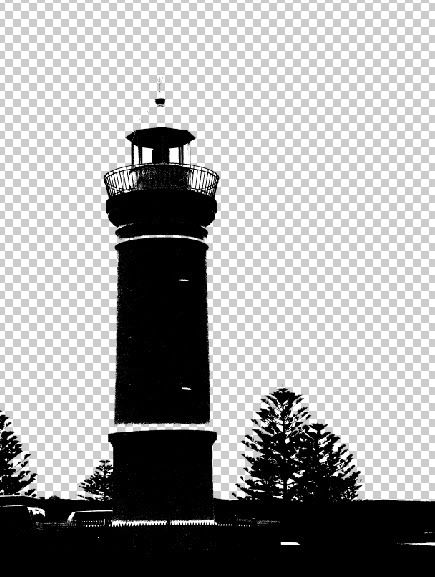 4 Creating section masks
At this point you can leave your silhouette as is or you can break the scene up a bit, to enable you to clip various Ephemera and papers to different parts of your photo. For my photo, I wanted to focus on the lighthouse so I used the Lasso tool to loosely draw around the lighthouse in three sections, hitting CTRL+J after each selection to paste the selection on its own layer. My layers at this point: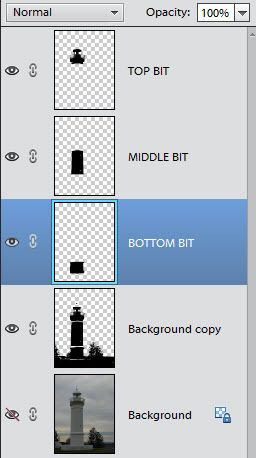 5 Fixing up your section masks:
Take a closer look at the Top Bit of the lighthouse selection (below).
There are a couple of things I need to fix here, the first one is the gap where the top part of dome should be (shown in red). Remember I mentioned earlier about the Threshold filter sometimes makes light objects even lighter so that they will disappear? To fix this, turn on the view for your original photo and then create a new layer above your section mask. Using a black brush simply paint in areas that had disappeared. I only needed to paint the dome back in. Use a soft brush for the middle bit but change to a hard brush to do the edges, just so you have a cleaner edge for your ephemera to stick to.
Secondly there are still some white background areas in between the rungs on the tower so I used the Magic Wand tool to highlight them and delete. A before and after screen shot.
6 Creating the collage:
At this point I moved all my layers onto a new PSD file in Elements. I chose an A4 size which is approx. the same size as a Letter size and positioned where I wanted the lighthouse to sit. Close down the file you used to create the silhouette and save it if you want to, but there really is no need.
Now the fun part of finding ephemera and 'clipping' to my shapes. You will find LOTS of ephemera pieces in Rachel's kits, so take a look and see what you think will work with your project.
I cheated a bit and found some ephemera that Rachel had already 'cut' into strips in the Saffron kit. Because of the gaps in between I used another piece underneath it. Then I just clipped the ephemera to the sections. Don't forget to play with the blending modes if you are putting one piece of ephemera directly on top of another.
But of course you can use other bits and pieces as well, here is another example using different ephemera on the same section.
My lighthouse sections are now complete. To finish off I clipped a sheet of printed paper from Another Man's Treasure kit to the rest of my silhouette shape.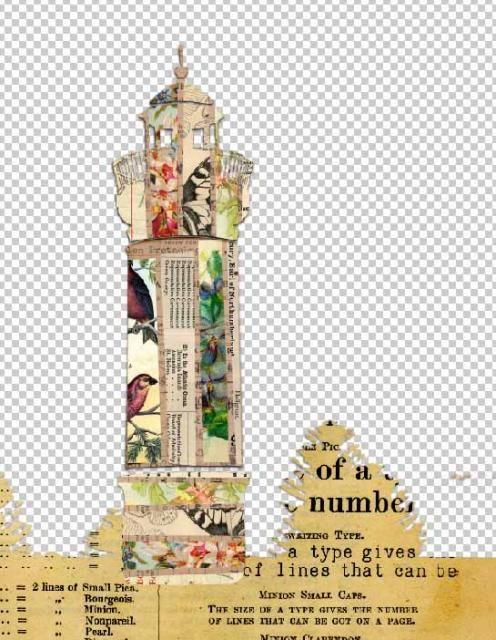 That finishes off the main parts of my collage. Remember to save your file as a PSD so you can come back and change things if you want to. Now it's just a matter of putting in a background of your choice! You could do all sorts of things at this stage, use a paper layer for a background, or a blended photo to name a couple. Experiment and see what works for your project!
7 Finishing off my page:
To finish off my page I created a collage background using LOTS of ephemera pieces which I just randomly stuck all over the the background, then merged the whole lot into one layer.
I used a dark bluish paper from the Today Is A Struggle kit and placed this underneath the collage background I created in the previous step. I desaturated paper a bit and then lowered the opacity of the collage layer to 35%.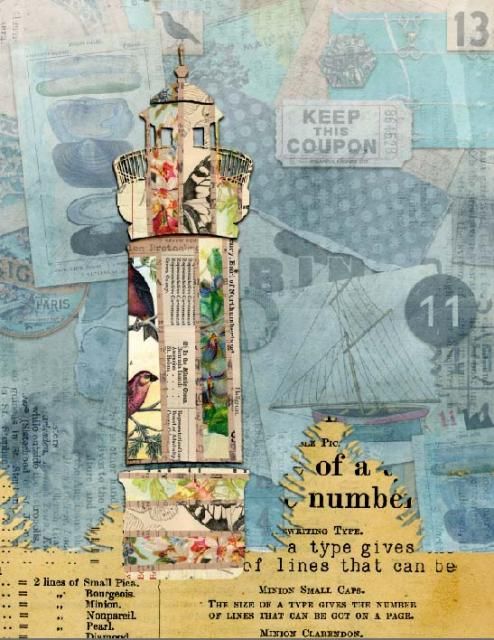 Next I added some textured paint strokes from the Saffron kit (recoloured to white) and also added some paint splotches from The Darkest & Deepest Ocean kit, the Dreamer Splatters and the Dreamer Elements - changing the colour to suit the background. Also added a gesso piece from A Gesso of a Mess 03 [Paint Stamps] to the top left hand corner as well.
Finally I finished off with some bits and pieces fromThe Darkest & Deepest Ocean kit; light beam for the lighthouse, starfish, trim, stitches and paint splatter and I found the quote on the internet.
Whew! and I am done! my finished page appears below:
Credits: For the main foreground: Today is a Struggle Bundle | Saffron kit | Dreamer Splatters | Dreamer Elements | Another Man's Treasure - Value Bundle | A Gesso Of A Mess 03 [Paint Stamps] | The Darkest & Deepest Ocean [Kit] For the Background: Variety of Captivated Vision kits.
Here are some fabulous pages from the Captivated Sistas.
Brigitta: " I used a monument to creating a clipping mask. Then I filled it with lots of ephemera. I used it behind the monument to. Finally I used some gesso, 3D elements and a Word Art too."
Credits: Dreamer | The Darkest & Deepest Ocean [Kit] | I Became Someone Else | It's My Journey | You Are Worth It
Trista (Guestie): "I used a nicely collage background from She Wears Wings and continued to collage over it until I was happy with the result. I also created a ballerina from mixed collections and collage the flower petal dress by clipping layer upon layer to each petal. "
Credits: Artful Intentions: Papillon Place Elements | Artful Intentions: She Wears Wings | Believe In Beautiful | Fluent In Sarcasm | My Inner Voice Elements |
Dalis:
Credits: I Became Somebody Else [Value Bundle] | Celeste [Mega Bundle] | Today Makes Me Happy [Kit] | Studio Mix #83, Captivated Visions papers and elements | Studio Mix #83: She Is Connected Word Art |
Really hope you try this technique out, it might look like a lot of work but it really is a fun thing to do!
till next time
Ona xxx