Hi there everyone! Ona here again with a tutorial on how to turn your 'not so perfect photos' into an overlay that you can use to add interest of colour to another photo or anything else for that matter. If you know me then you will know that besides blending, my next favourite thing is using TEXTURE! I love adding texture to my layouts in the form of photo overlays!
So we all have them, those blurry photos of various things that are taking up room on our hard drive! But don't despair! With some PSE Filter work and Rachel's assorted Mish Mash stamp brushes we can transform those photos to create some interesting and unique texture overlays!
Let's start with the page I have created for this tutorial.
I used a photo of some frangipani flowers to create an overlay for my main photo. Take a look at your photos, do you have some photos of flowers, landscapes, sunsets etc that you can use? Different photos are going to give you different results, it just depends on what you are after! Warm sunset colours for instance can add autumn tones to a photo by using the Colour Mode, while a photo of a piece of timber can give you some great texture!
When working with textures/overlays, the blend modes play an important part, if you didn't catch my last tutorial you may like to read it as it gives you the basics of what the blend modes actually do. You can find it HERE
So let me show you the steps I used to create the textured overlay for my photo.
Firstly, here is the original photo, straight out of the camera.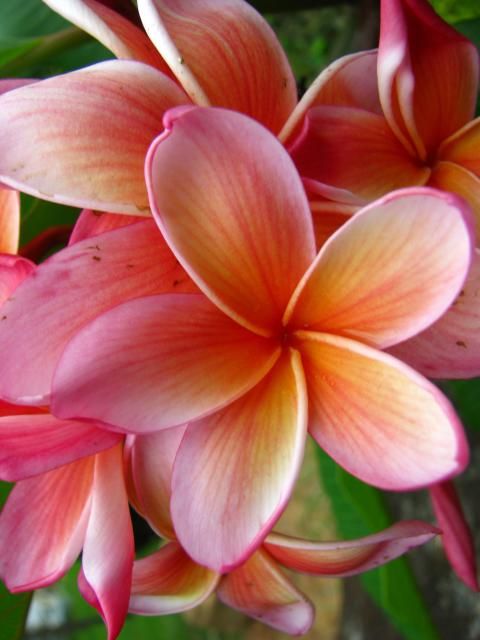 Next I used the Artistic>Rough Pastels filter on it (the settings I used appear underneath the photo) and then used the Levels to lighten it.
At this stage I started playing with some of the brushes from Rachel's Mish Mash Stamp Stash collection. I created a new layer above the photo overlay and then using white I stamped some brushwork on this layer. Once I was happy with it I then merged the stamped layer and photo overlay together, CTRL+E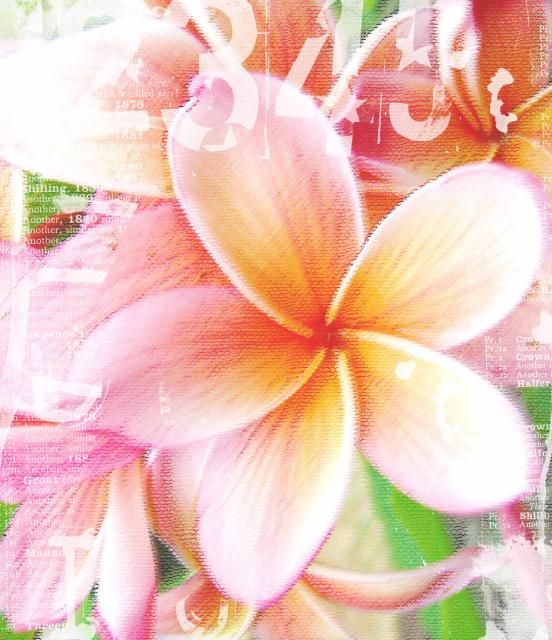 From here I experimented with applying it to different photos and playing around with the blend modes until I was happy with the results. I ended up using Linear Burn mode for the photo overlay - see below.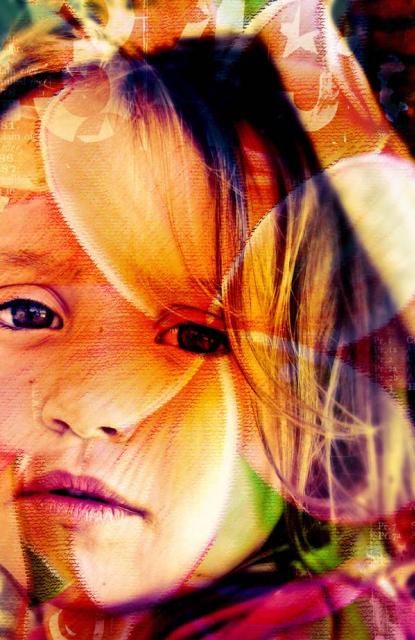 But I wanted MORE TEXTURE! So I duplicated the photo overlay and applied a High Pass Sharpen filter and used the Linear Light layer mode to emphasise the texture even more. At this stage I also added some masks and again, using various Mish Mash stamp brushes, I took away the hard edge of the photo.
At this point you can either save this file as a PSD to keep the layers intact, or save it as a PNG to use in a layout later on (or you can do both).
That is the photo finished.
There is a lot of creative freedom in creating these photo layers, take a look at the Filters available in your software program and experiment! There are plenty of artistic, blur, distort and sketch like filters to play with. So play around with your not too perfect (or perfect) photos to see what results you can come up with! I will cover some of these other filters in future tutorials so stayed tuned!
For those that would like to see how the rest of my page evolved please read on.
After opening a 12x12 PSD file I moved the grouped photo layers (layers shown in last picture) onto it. I kept the layers active to give me more options as I scrapped my page ie. I might have wanted to lower the opacity of just the photo or the photo layer - just keeping my options open.
I played around a lot with different background papers but couldn't find anything that I really liked at this stage so I added a white layer beneath the photo and moved the frangipani photo layer by itself over onto it. I positioned it over on the right hand side and again played with the blend modes, deciding on Multiply.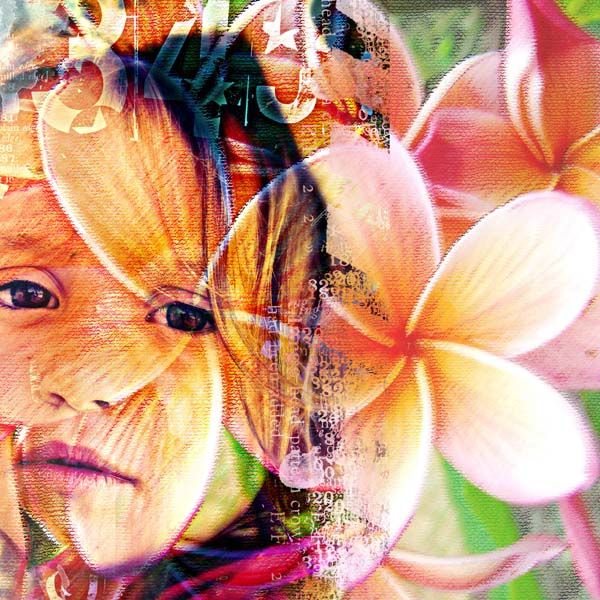 Next I added a couple of paint splats from Rachel's The Deep and Darkest Ocean kit (recolouring them using a couple of colours from the photo) and a sweet little frangipani flower element as well - see picture below showing what the layers look like at this point as well.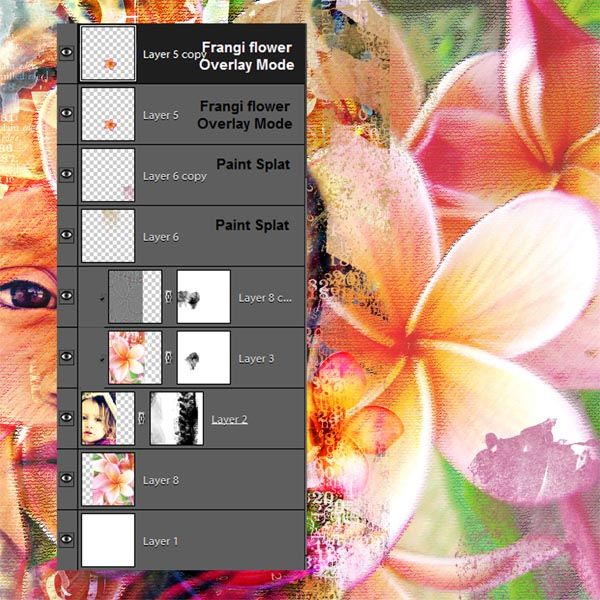 At this point I created a Stamp Visible layer which merges all the layers together BUT keeps the layers intact as well. I LOVE this function! To create a Stamp Visible layer, move to the top of your layers and simply press the key combination, CTRL+SHIFT+ALT+E.
At this stage I decided I wanted some sort of border around this layer so I added Mixed Media Paper #1 from the You Are Beautiful kit underneath the Stamp Visible layer, desaturated the colour and emphasised the texture more by duplicating the paper layer and applying the High Pass Sharpen filter to it, then merged the two papers together.
I then resized the Stamp Visible layer so the background paper would appear like a border around it.
I didn't like the highly saturated tones of the yellow and reds......... so I pulled another paper out of my stash that had an off-white tone to it (MM Paper #3 My Heart is Full) and placed it above the Stamp Visible layer and then played with the blend modes - settling on Colour mode at 30% opacity.
From here I added the wordart from Believe in Beautiful and the scribble from You Are Beautiful. Finished!
The Captivating Sistas also had a play and came with some gorgeous pages!
By Eszter:
Credits: Another Man's Treasure - Elements & Ephemera | Artistry 01: Overlay | Create, Captivate & INSPIRE: Collage | Create, Captivate & INSPIRE: Embellish | Collect Moments: Embellish | Collect Moments: Mixed Media 2 | Simply: Kit | Bubblegum Pop: Stamp
By Brigitte:
Credits: Creme Caramel | Collaged: Make The Days Count [Layered Template] | Artistry 01 - Blend | You are Beautiful | It's My Journey
I hope I have given you some ideas to play around with making your own photo overlays, it's a great way to get your inspiration going when you are feeling a bit mojo-less! Just start mucking around and playing and before you know it you will be itching to use your photo overlay!
till next time
Ona xxx