Hi everyone! One here with a tutorial on how to use our brushes to create a simple spray of confetti. Now Rachel has some gorgeous confetti sprays already made in a lot of her kits, but I thought it would be a fun thing to do and of course it's handy to know how to do it in case you want to make some confetti for a specific page :)
As mentioned we are going to be using our brush tool. A few tutorials ago I discussed what the various settings meant in the Brush Settings dialogue box and if you missed it or have forgotten, then take a quick look now Brush Options - What Do They Mean?
In particular we will be using the Scatter option to give our confetti a scattered and non uniform look to it.
I will start with showing you my page with the confetti that I made, as you can see I have kept the page fairly simple to allow the confetti to stand out along with the photo.
Credits: My Sanctuary [Watercoloured Papers] | My Wish For You: Kit | Celeste [Mixed Media Kit]
So let's do it.
Step 1. Open up a blank PSD file with a white background.
Step 2. Make sure your colours are at default, black foreground with white as the background.
Step 3. Select the brush tool and then go the Brush Settings dialogue box.
Step 4. After some trial error I finally ended up with these settings.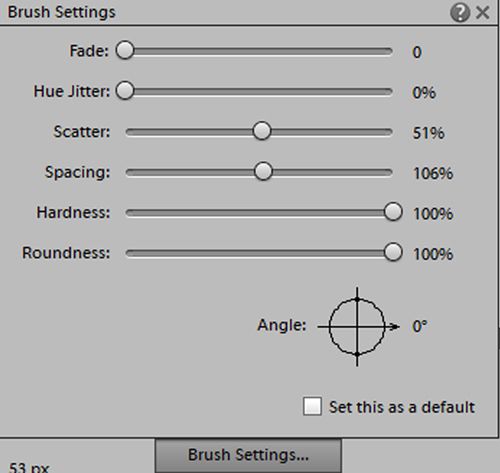 Perhaps you may like to start with these settings as well and then just play around to suit yourself.
Step 5. Next step is select a brush size and type. I suggest going with a hard brush point so the confetti shapes are well defined. The size of the brush depends on what size you want your confetti circles to be.
In this first example I used a 53 pt sized brush, and to my mind it is a bit too small.
In the this example I increased the point size of the brush to 83 pt which I found just right.
Step 6. Once you have those settings in place, just practice drawing across the page with your mouse or pen, remembering to start a new layer each time. In some cases you may need to draw over the the original to add some more circles in some spaces. Keeping them on separate layers allows you to manipulate the confetti sprays so you can use a mask to get rid of the bits you don't want. When you are happy you can merge the confetti layers together.
Step 7. In the Layers panel, CTRL+Click on the confetti scatter to put marching ants around each little circle. At this stage you can either copy and paste to another new document and save it as a PNG file or you create a brush from the selection and save it accordingly. Here is a Creating and Saving a Brush Tutorial if you need it as well.
Step 8. When you are ready to use your confetti spray on your layout, either open the PNG file or use the brush to stamp on a new layer of your layout. Select a paper that fits in with your layout design and place on the layer above the confetti scatter, now clip the paper to that confetti layer. Different papers (or elements) will of course give you different effects! Or you can simply recolour the confetti spray to suit your page, refer back to this tutorial on How to Creatively Recolour PNG Files for some extra tips.
That is all there is to it!
Now take a look at these fabulous pages from the Captivating Sistas and our Guests.
Dalis: "I use CS5 and had to adjust the spacing and scatter a little bit so my circles wouldn't overlap all the time and were not in such a straight line."
Credits: Mulberry mini kit | Mish Mash: Alpha Stash 05 | Mish Mash: Alpha Stash 02
Lisa: "83pt was a perfect size for the confetti sprinkles!"
Credits: In My World Dreamy Watercolour Paper | Dreamy Shabby Solids |Dreamer Splatters | She Wears Wings (frame, brushes, alpha)
Loni: "I used the brush tool to create the confetti shapes but then warped them a bit, so they wouldn't be so perfectly shaped, before clipping paper to them. Afterwards I went back in and hand cut several of the pieces apart for better separation and in order to place pieces specifically where I wanted them."
Credits: My Wish for You Kit | Dreamer Elements | Dreamer Splatters | Yes You Can Elements
Trista (Guestie): "I created 3 separate layers of confetti using a hard round brush. I erased some of the overlapping dots, but kept the layers separate so that I could clip different papers to each layer and tweak the shadows separately."
Credits:Yes You Can
Hope you give a try!
till next time,
Ona xxx