Hi there peeps, Ona here with another tutorial for you!
Sometimes I like to use a soft, dreamy effect on my photos, just to add a nostalgic, vintage feel to it. Like most all techniques in Photoshop Elements/Photoshop there are a variety of ways to do this, including using an action or even Lightroom. So I wanted to share a quick and simply method with you today, just using your software program, some paper and elements and some blend modes.
The photo I used is straight out of the camera and already had a soft tone to it so I did not need to desaturate the colours or lighten it. If your photo is pretty bright and bold then you may need to desaturate the colours a bit using Enhance>Adjust Hue & Saturation (CTRL + U).
To give it a more vintage look I also ran a PSE Sepia photo filter on it (Effects panel>Monotone Colours>Sepia)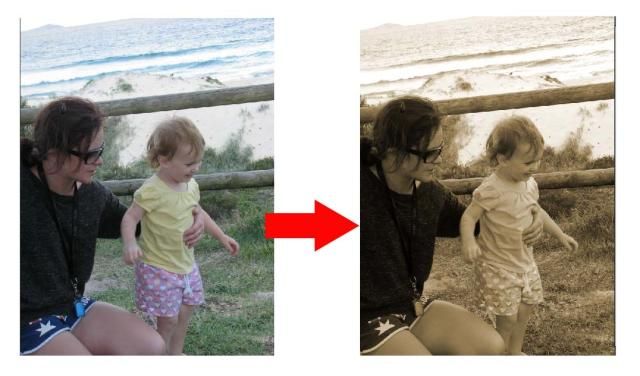 At this point I moved the photo layers onto the background paper I wanted to use, remember to LINK the photo layers together before moving them. I selected a background paper #5 from Rachel's new kit My Wish For You. I also flipped the photo horizontally as I wanted Evee and Rachael (my neice) to be facing the middle of the page - be careful when rotating photos, make sure you don't have any text that could be turned about, like text on a t-shirt or a bill board behind the person etc.
After flipping the photo I wanted it to sit between the two horizontal creases of the background paper so I cropped the photo by clipping it to a drawn square.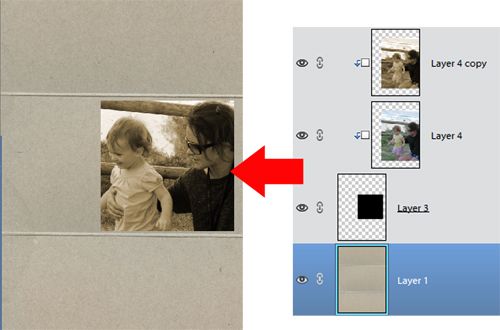 Now the fun bit! On the Sepia photo layer I lowered the Opacity down to 58% so that a bit of the colour from the original photo was able to be seen.
Next I selected another paper, #9, from the My Wish For You kit and cut out a square and clipped it to the sepia photo. I played with blending modes for the paper until I ended up with Hard Light at 100%.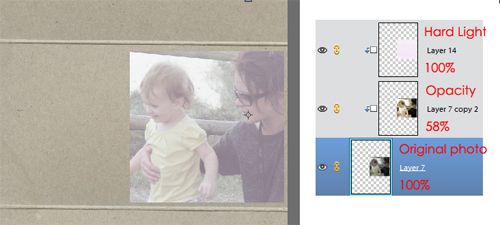 These are the three main layers you will need to play with to get the look you are after. Try different blend modes and tweaking the opacity levels and also try recolouring the paper just slightly if you need a bit more colour tone. You could aslo duplicate the paper level and use another blend mode on it............. experiment to see what you can come up with!
To finish the photo off I added a bokeh element from the My Wish For You kit as well. It was a tad too bright for my purposes so I recoloured it with softer mauve colour and placed it underneath the sepia photo to soften it a bit more. Again I played with the blend modes and ended up with Linear blend mode at 100%. Needing a bit more I duplicated the layer and changed the blend mode to Vivid Light at 75%. Using a mask on both layers I masked out the bits I didn't need.
Once I was happy with my photo I went ahead and scrapped the rest of the page.
Here is my finished page
Credits: My Wish For You
Take a look at these gorgeous pages from the Captivating Sistas:
Anja:
Credits: My Wish For You | Backgrounds | My Wish For You | Elements
Ellen:
Credits: My Wish For You: Signature Collection
A fun and easy technique so hope you have some fun with it!
till next time
Ona xxx