Hello again everyone! Ona here with another short tutorial to hopefully inspire you!
The last tutorial looked at different ways of customising wordart, for this tutorial let's talk about personalising it as well. While Rachel's wordart is fabulous, sometimes I want the wordart to be a bit more personal, more in tune with the feelings I am trying to express in my layout.
Personalising wordart can be done in different ways such as adding a brush, an image or simply more text.
For my page I chose to use wordart from Rachel's Creme Caramel Bundle and ended up adding more text to it.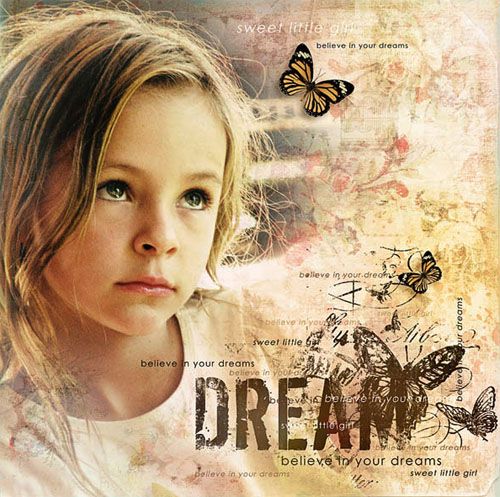 Let me take you through the steps of how I personalised the wordart and then created my page - please follow along if you would care to.
1. Select wordart. Decide on the wordart you want to use, as I said earlier, mine came from the Creme Caramel Bundle. I already had the photo in mind that I was going to use so I wanted something with the word 'dream' in it. TIP: If you are going to be adding extra text to the wordart, make sure that there is some space around it so the added text will be seen.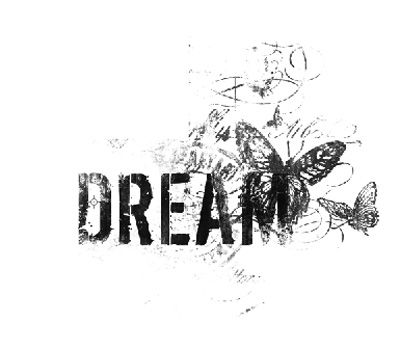 2. Create a new layer under the wordart layer and fill it with white. This just makes it easier to see......... we will be getting rid of the white later.
Make the wordart layer active.
3. Click on your text tool and type the words you want to add. Think about the font you will be using and the size. For my page I chose a clean looking font called Century Schoolbook. Take the time to get the font right and if using a script/cursive font then make sure that they don't totally get lost if you decrease the font size.
After typing the words 'believe in your dreams', I duplicated that layer a few times and then started playing around with the font sizes. It's really a simple but effective way to add some extra text. Move some layers behind the main wordart layer as well, change the colours on some of the text layers to add more interest and use the Italics format if you like that. Rotate some layers, experiment to see what works and what doesn't.
I also added a second line of text 'sweet little girl' and duplicated it and did the same as I did with the other text.
When I was finished with the wordart, I had quite a few layers! I didn't want to flatten the layers at this stage in case I wanted to move something so I created a 'stamp'. Creating a stamp will merge your layers into one but will keep the individual layers intact underneath it.
4. Turn off the white layer. We want our merged stamp to still be transparent.
5. Now move up and make the top layer active, then press CTRL+SHIFT+ALT+E.
You should now have a merged layer of your personalised wordart.
At this stage you can either turn the visibility off for the other layers or simply add the background paper you are going to use underneath your merged wordart layer and work from there.
6. Add your background paper. I used a patterned paper from Rachel's Creme Caramel Bundle and then moved the wordart down into the right hand bottom corner.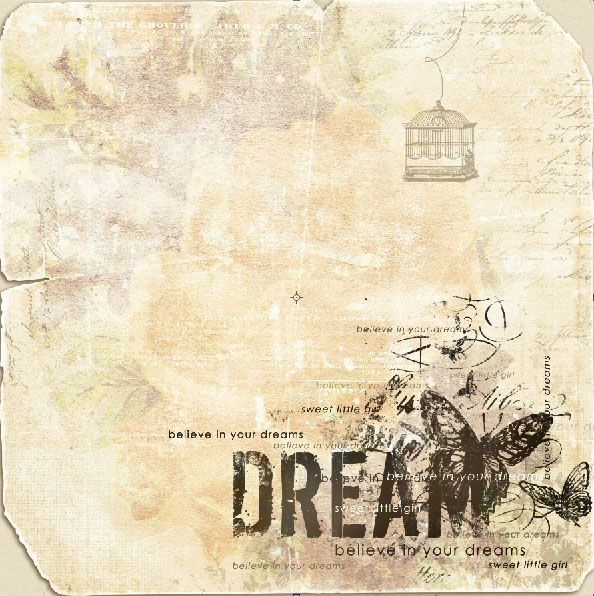 7. Add your photo. At this stage I added my photo and used a layer mask to get rid of the hard edges and to blend it into the paper.
8. (Optional add colour layer). I also added a bit more colour to give it more warmth. Create a new layer above your photo and wordart, change the blend mode to Colour, using a low opacity brush select some colour from the photo and just paint over the areas where you want the colour to be. By putting it over the wordart I also blended it into the page a bit more.

9. Add any other papers you want to blend. Next I added a floral paper from the Yes You Can Bundle and blended this into the page and then added some butterflies from the Creme Caramel Bundle as well.
10. Add extra wordart. I finished off the page by adding the two pieces of text that I had added to the wordart at the top of the page, just to tie it all in a bit more.
Credits: Creme Caramel Bundle | Yes You Can Bundle
All done!
Here are examples from the creative Captivating Sistas:
Brigitta: "I chose a Wordart from the Dreamer collection. I added a quote to the wordart several times aswell as the words 'dream' and 'dreamer'. I Used fonts: Carbon Type and Brentonscrawl Type. Finally I used a lighting effect to draw attention."
Credits: Dreamer by Captivated Visions | Overlay from Artistry 1: Overlays
Roxana: "I used two wordarts. On the top one i added the Note to self tag from the kit (darken mode) in different sizes, and on the bottom one i added the word less (from the quote) with one big scripted font and the others small with the same font that I used on the quote. "
Credits: Bubblegum Pop: Signature Collection | You Are Worth It (Mixed Media Kit) by Captivated Visions| Fonts Qwerty and Scriptina
So I hope you have a go yourself and personalise the wordart to suit your page!
Till next time,
Ona xx