Hi everyone, Ona again, bringing you another tutorial using products from Captivated Visions at Scrapbook Graphics.
Embellishments are a great way to add interest to a layout and create some texture as well. In today's tutorial I just want to share with you one way in which I use embellishments to create a cluster effect that can be used to add an artistic flair to your pages.
PNG (Portable Network Graphics) files are normally used by designers when creating embellishments (or elements) for a kit. The main advantage is that a PNG file has a transparent background and therefore can be used against any type of background. So it stands to reason that these types of files are ideal for creating a cluster group quickly and easily to use in your layout.
Creating a cluster group is simply arranging a few embellishments into a creative looking 'grouping' and then creating a stamp which can be used to embellish various sections of your layout.
Let me illustrate what I mean by showing you my finished page. The majority of the page is made up of one cluster group that I created and then used in various areas of the page.
If you would like to play along these are steps I used to create my page.
1. Select the embellishments to use for your cluster grouping.
I used Rachel's Collect Moments kit to create this page and these are the clusters I used to create my cluster grouping.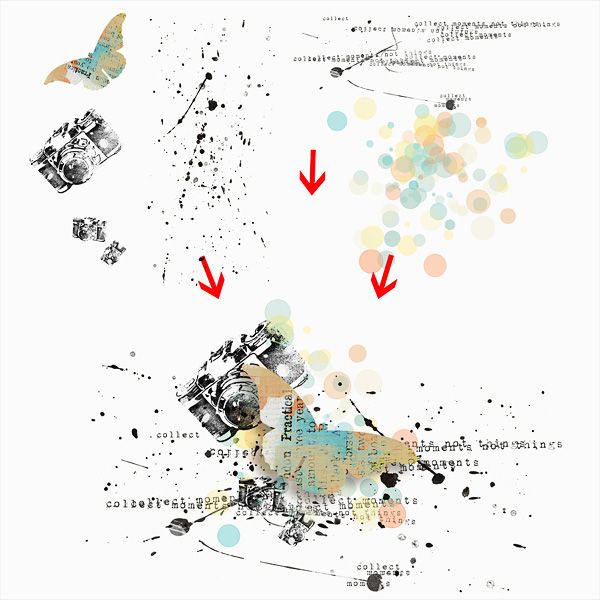 I normally play around and move the embellishments until I am happy with the arrangement. You can use a mask to hide a part of an embellishment, use a brush to distress an embellishment, change the colour of the embellishment, add shadows if you like but make sure that these are not too dark. There are PLENTY of things you can do to when creating these cluster grouping, use your imagination and just play.
2. Create a stamp of your cluster grouping.
Once you are happy with your arrangement create a stamped layer of your grouping by moving to the top of the last visible layer and pressing the CTRL+ALT+SHIFT+E key combination (make sure that any BACKGROUND COLOUR is TURNED OFF when you create a stamp otherwise your cluster group will no longer have a transparent background).
Want to create another cluster grouping using the same embellishments?
At this stage, hide the stamped layer you just created. Now you can go back and re-arrange the grouping if you like. This can be done a few times so that your groupings don't look too repetitive when you go to use them on your page.
Just staying with the one cluster grouping?
Whether you have created one or more cluster groupings, it is a good idea at this time to hide the original emebellishment layers (if you have PS then you can simply group them if you like).
For this page I just stayed with the one cluster grouping and simply duplicated it a few times and then played around with rotating the different layers. This is what my page is looking like against a white background.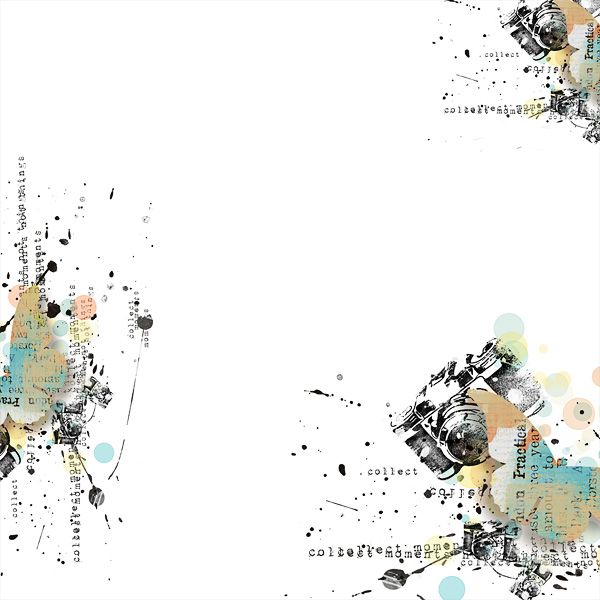 3. Add a background paper.
At this stage I added my background paper and played around with a few until I found one that suited. Keep in mind that you can change the background paper at any time during your creative process, or even blend a couple together!
4. Add your photo.
Next I moved my photo onto my page and played around with the blending and ended up with the Multiple blend at 81% opacity. I added a mask to my photo and then painted it out a bit using different brushes from Rachel's awesome brush collection in the Bubblegum Pop Bundle.
At this point I felt the centre of Grace's face was a little bit too light, this was due to the paper underneath the photo. To rectify this I added another paper from the Collect Moments kit and placed it underneath the original paper layer. I then applied a mask to the original paper layer and softly blended the lighter parts of the paper to show the darker tones of the paper beneath it.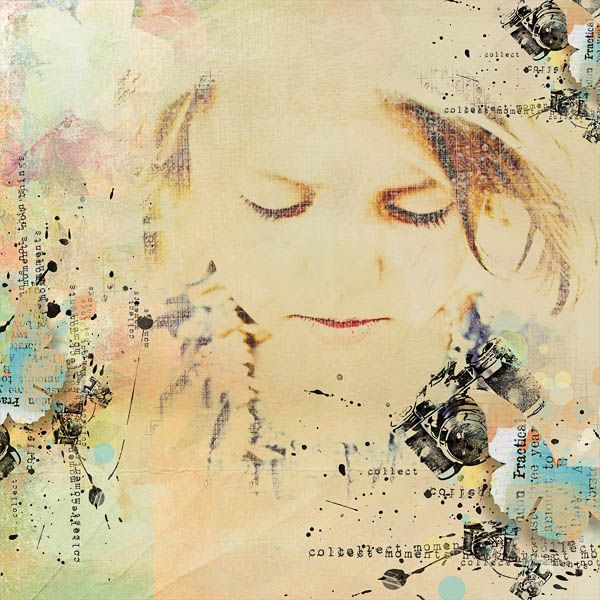 5. Add more embellishments.
From here you could add some different embellishments for some of the ones you have already used to 'tie everything' together. I used the text stamp around the edges and then I recoloured the paint splatter element to match the blues in the photo.
I also added a small flower to a few spots around the page as well.
I found the upper left hand corner looked a bit empty so duplicated one of the cluster groupings and moved into that area.
I also added an Artisitry Border 01 and recoloured it white to finish the page off.
6. Add title or wordart.
Finally I added some wordart from the Collect Moments kit, cutting it up into smaller pieces to suit my page.
Here is my page finished.
Take a look at these gorgeous pages by Rachel and the Captivating Sistas!
Rachel - One of Those Days Layout
Credits: Bubblegum Pop: Journal | Collect Moments: Mixed Media 2 | Collect Moments: Embellish | Collect Moments: Alpha | Collect Moments: Stamp | Create, Captivate & Inspire: Overlay | Artistry 01: Scribble | Artistry 01: Blend
Eszter - Friends Layout:
Credits: A Little Birdie Told Me - Elements & Ephemera | Another Man's Treasure - Stamps & Brushes | Another Man's Treasure - Elements & Ephemera | Create & Captivate (Inspire): Collage | Create & Captivate (Inspire): Embellish | Create & Captivate (Inspire): Scribble | Collect Moments: Embellish | Collect Moments: Mixed Media | Dreamer - Elements |Bubblegum Pop: Journal | Overlay: Bubblegum Pop | Mish Mash: Blend Me Stash 02 | Simply: Grunge | Simply: Embellish
Dalis - Me? Sarcastic? No Layout:
Credits: Fluent In Sarcasm [Mixed Media Kit]
Till next time,
Ona xxx