Hey Peeps, Ona Here!
I don't know about you but I just LOVE wordart! In many cases that could be the only journaling I will use on my layout, short, simple and to the point.
Wordart can be used in many ways as well, as a title for your layout, a sub-title, part of your actual journaling or simply by itself.
There are a lot of ways to alter your wordart and make it your own, so I hope you will join me and have some fun customising your wordart.
Firstly, this is my finished page.
The quote is from Rachel's Quotiety [Kit] and to demonstrate some of the methods I concentrated on the wordart itself so I made it big! I used the My Heart Is Full [Kit] to jazz up the wordart also a paper for the background which I desaturated and lightened.
Here are the steps and the methods I used to customise the wordart.
I literally broke the entire wordart up into seperate layers, some layers have just one letter while others contain a few words.
Open your wordart and move onto your page. As mentioned, I wanted the wordart to fill the page so I resized it accordingly (make sure to drag a corner when transforming so that you keep the ratio intact).
I started with the letter L and used the Magic Wand tool to select it, holding my Shift key down as I clicked on the various shades of black and grey. Once I was happy with it I pressed Ctrl+J to put that on its own layer.
In the image below, note the L has been highlighted using the Magic Wand and then, after pressing Ctrl+J it has copied the selection to its own layer.
I also recoloured it to a white colour and then I hid it
Don't worry if some of the black is showing through - that is coming from the original black wordart, we will fix that later.
Depending on how big your wordart is, you could do each letter seperately or you can use the Polygonal Lasso Tool to select just various parts as I did.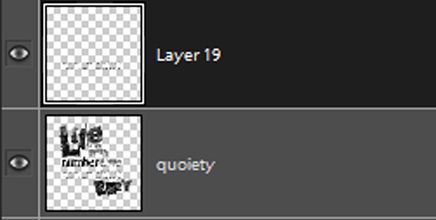 Carry on and selected various parts of the wordart and copy them to their own invidivual layers by using Ctrl+J. I recoloured all my wordart to white, but left the original layer as is.
Once you have all your seperate layers you can turn off the original wordart layer.
Now the fun bit, using a variety of papers and elements I simply clipped them to the various layers. You could also use photos!
I used paper from the My Heart if Full kit plus some elements, and recoloured some of the other wordart to suit. My wordart is looking like this at this stage:
To finish the wordart off I made the original layer visible and recoloured it using an orange colour, you can see how this colour now 'fills in the gaps'.
From here it was just a matter of tweaking the colours, adding some shadows and playing with the background to finish off my page. I also added an outline stroke to it as well when I applied a shadow.
Credits:
Here are some more examples from The Captivating Sistas:
Brigitta:
Credits:
LiLi:
Credits:
I hope this tutorial has given you some ideas on how you can customise wordart to suit your page and am sure you will have some fun with it!
till next time
Ona xx