Hi everyone! Welcome to another tutorial featuring the gorgeous products from Captivated Visions! For this tutorial I am continuing on from the last one, showing you how you can get some really great creative effects using the Artistic filters found in the PSE and PS programs.
Firstly can I say that I was really disappointed the first time I tried these filters out. I felt that they didn't look very natural or very creative! I persevered and experimented a lot and found that they worked well when a few of them were used together.
While there is an option within the Filters Gallery where you can combine more than one filter at a time, it didn't allow you to work with each individual filter when you return to your photo.
So the way I do it is to duplicate the photo a few times and then apply a different filter to each one. Then it's just a matter of using a mask on each layer to hide the parts of that particular filter that isn't needed.
It is a lengthy process but its also a very creative one so I hope you will give it a try!
The Artistic range of filters include; Colour Pencil, Paint Daub, Watercolour, Underpainting and a heap of others! The ones that I will using for this tutorial are Underpainting, Dry Brush, Paint Daubs and Colour Pencil.
To get you inspired, this is the before and after of the photo I used for this tutorial.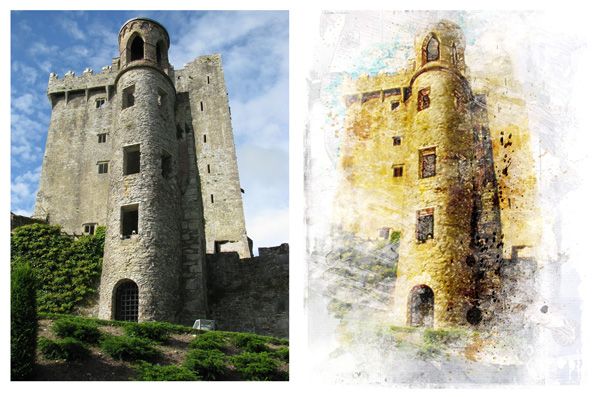 The photo was taken by my sister when she was overseas last year and it's of Blarney Castle in Ireland - I was very jealous of her when she went, but at least she gave me some photos! LOL!
Let's get started:
1. OPEN YOUR PHOTO IN Photoshop Elements or Photoshop and DUPLICATE IT - landscapes, buildings and portrait photos are all okay but as there will be a fair bit of texture added stay away from really fine detailed photos. Always duplicate your photo so your original stays intact, File>Duplicate. Close down the original photo.
2. CREATE A LAYER DUPLICATE OF THE PHOTO - Create one duplicate of the original (CTRL+J) and then hide the original photo, just in case we totally mess everything up!
3. OPTIONAL - INCREASE COLOUR SATURATION OR USE LEVELS - Now yours may not need this and I don't do this for every photo I use but I decided to increase the Saturation for this photo as I wanted the castle to stand out a bit more against the sky. Use CTRL+U to open the colour adjustment screen. Also check that the photo has some nice contrast happening.
4. DUPLICATE THIS LAYER 4-5 TIMES - Go ahead and duplicate this layer a few times, go with 4 for this tutorial. You could use more or less, just depends on the photo you are using the effect you are after.
5. APPLY A FILTER TO EACH DUPLICATED LAYER - Working from the bottom up, select the first duplicated photo layer then click Filter>Artistic and select a filter. Doesn't matter which one at this stage. Once the Artisitic filter gallery is open you can jump around and try each filter to see what you like. Play around with the filter controls and when you are happy with it, click ok to return to your screen. Then click on the next layer and so on until you have a filter for each of the four duplicated layers.
MAKE SURE YOUR DOCUMENT IS SAVED!
This is a screen shot of what my layers look like: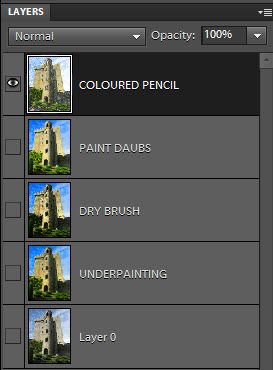 These are the filter settings I used for each filter:
6. APPLY A HIDE ALL MASK TO EACH LAYER - Click on each layer and apply a Hide All (BLACK) mask by either using the Layer menu or by holding down the ALT key when you click on the Mask symbol on the Layers Palette. (For earlier versions of PSE you will need to perhaps download a Layers Mask action.)
7. INSERT A NEW LAYER AT THE BOTTOM OF YOUR LAYERS - Above the original photo layer (which is hidden) insert a new layer and fill it with a colour of your choice (depends on what tones you are after) I went with a soft beige colour. Having this background just makes it easier to work with your layers and the blend modes.
8. READY TO START PAINTING? - Make sure the mask is active. Now you are ready to paint, with a white brush, on each of the individual layers mask. I used Rachel's Mish Mash Stamp Stash 06 brushes to reveal the pieces of each layer that I really liked. I varied the opacity and the size of the brush AND I played with the blend mode for each individual layer. This is a very creative and fun step so take your time! If you make a mistake use black to reverse your brush stroke. Its fascinating watch your photo come back to life!
This is what my layer palette looks like now along with the photo: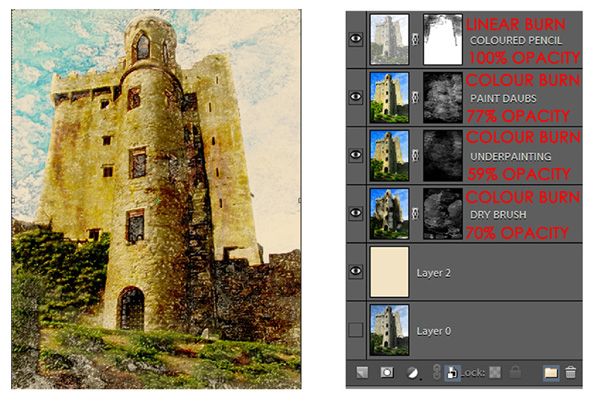 9. NEED AREAS TO BE LIGHTER OR DARKER? - For my photo I wanted some more depth so I inserted a new layer at the top and used Edit>Fill Layer>50% grey. Change the blend mode to Soft Light at 100% opacity. Using a soft and low opacity brush, use white to brighten up areas of your photo or black to darken them.
ARE YOU FINISHED? - If you are happy with what you have at this stage you can always save it and then go and scrap it. I wanted to go further with mine, to give it a more painterly feel to it. So you can continue on with me if you like.
11. CREATE A STAMP VISIBLE LAYER - At the top of your layers palette create a merged copy of your existing layers by using the CTRL+SHIFT+ALT+E keyboard command.
12. CREATE A NEW LAYER UNDER THE STAMP VISIBLE LAYER AND FILL IT WITH WHITE - This acts like a Background. If you don't want white you can use another colour.
13. CREATE A HIDE ALL MASK ON THE STAMP VISIBLE LAYER - Now create a Hide All (Black) mask on your merged image. I used Rachel's Mish Mash Stamp Stash 06 brushes again to start revealing the image. USE A LOW OPACITY BRUSH, keeping resizing, keep changing brushes so you get a random paint brush effect. Don't reveal the hard edges of the photo, just concentrate on the middle part of the photo, increasing the opacity as you move into the centre - or where you want the focus to be.
14. OPTIONAL STEP - I duplicated the original Paint Daub layer I created and moved it to sit above the Stamp Visible layer, then changed the blend mode to Overlay at 24% to give the center of my photo a little more texture and depth.
My photo so far:
BUT THERE IS MORE! - Again, if you are happy then you can stop here! I just wanted to add a little bit more paint!
15. ADD PAINT SPLATTERS AND CHANGE BACKGROUND PAPER - Using Rachel's Artistry Grunge brushes I picked out some colour from the photo and just applied them to the page, putting them on separate layers so I could adjust them, or delete them if I didn't like them. No rhyme or reason to where I placed them. At this stage I also changed out the white background and use a paper from Rachel's Made To Match: In My World [Dreamy Watercolours]. This just added a painty type background.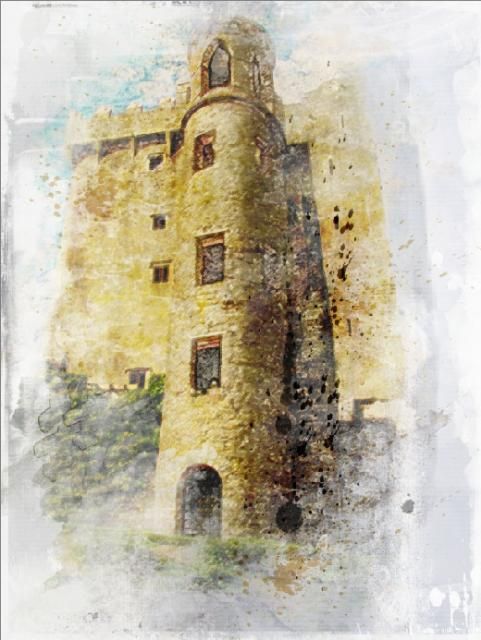 16. ADD GESSO - FINAL STEP - REALLY! - If you are still with me then let's finish off with some gesso to give our painted image a bit more texture. Above the background paper layer I added a piece of gesso from A Gesso Of A Mess 05 [Paint Stamps]. Positioned it behind the image and enlarged it so that the edges were just visible around the outer edge. I applied a very thin and light shadow to it and then duplicated the layer and used the High Pass filter to sharpen it, changing the blend mode to Linear Light. You may need to play around with the opacity of the main gesso layer.
I then added another piece of gesso from A Gesso Of A Mess 03 [Paint Stamps] to the layer above the brush layers and did the same thing to it as I did in the last step, giving it a shadow and using High Pass on it. I positioned this piece in the lower left hand corner then duplicated the layers and positioned that one in the top right hand corner.
OKAY, I AM FINISHED! - Yes, I am finally happy with the completed image and I hope, if you have come along with me, that you are happy with your results as well!
The finished image: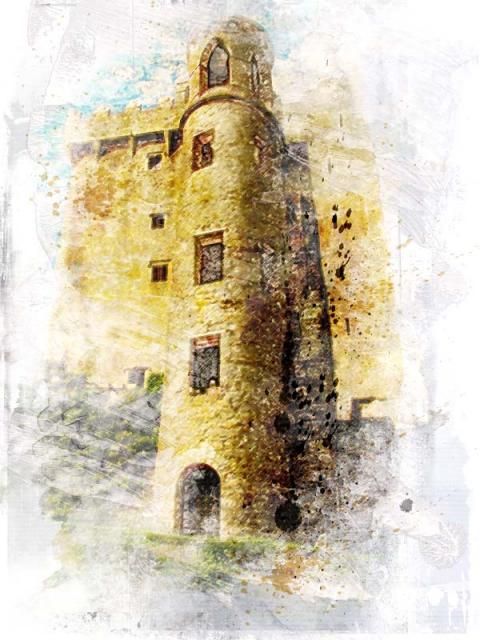 At this stage I moved it onto a 12x12 blank page, added the same paper I had used previously from Made To Match: In My World [Dreamy Watercolours] and blended the edges of the photo into the page. I then added another paint splat from Mish Mash Stamp Stash 09 [Paint Stamps] along with some birds and a scribble from Rachel's Dreamer Elements. Finally I added Artistry Overlay 03 to finish the page off.
My completed page:
Credits: Made To Match: In My World [Dreamy Watercolours] | Dreamer - Elements | Artistry Grunge brushes | Artistry Overlay 03 | Mish Mash Stamp Stash 05 | Mish Mash Stamp Stash 06 | Mish Mash Stamp Stash 09 | A Gesso Of A Mess 03 [Paint Stamps] | A Gesso Of A Mess 05 [Paint Stamps]
And some gorgeous pages from the Captivating Sistas:
Ellen:
My layers starting from bottom: Dry Brush - Lighter color - 100% Opacity; Under Painting - Color Burn - 68% Opacity; Paint Daubs - Color Burn - 74% Opacity; Color Pencil - Linear Burn - 100% Opacity; then I did a layer with my original photo 100% Linear burn, just to get some detail ; and my last layer was Find Lines, under Stylize - Darken - 100%
Credits: Collect Moments: Signature Collection | Various Mish Mash Brushes
Roxana:
Followed the tutorial and used the same settings.
Credits: Another Man's Treasure [Value Bundle] | A Gesso of a Mess 05 [Paint Stamps] | Mish Mash: Stamp Stash 2 | Mish Mash: Stamp Stash 10 | Artistry 01: Overlay | Artistry 01: Scribble
Anja:
The filter layers: I used different watercolour brushes that I had on my computer, played with opacity 25% and 50%; Underpainting is on Multiply 78%; Dry Brush is on Linear Burn 71%; Paint Daubts is on Lighten 70% ; Coloured pencil is on Hard Light 71 %
Credits: Another Man's Treasure | Made To Match Quotiety Stamps | Frosted Snowflakes Elements | She Wears Wings Spritzed
Rather a long tutorial but I hope you have had fun in creating your own masterpiece!
till next time
Ona xxx